Ladies and gentlemen, let's explore the fascinating tapestry of female financial dominance.
Today, we're diving deeper into Financial Domination (Findom) and financial control in a Female-Led Relationship (FLR), and adding a vital thread to our discussion: the role of tributes. You see, while Findom and FLRs are two sides of the same golden coin, how and when to introduce tributes into the dynamic can make all the difference.
Sadly, I'm too often told by submissive men looking for love that women are only after money. Women after your money online are called "Service Providers"; don't confuse this with the FLR dating. Control of money may well be part of your FLR down the line, but there are notable differences; let's explore.
Findom: The Explosive Chemistry of Tribute
In the alluring world of Findom, tributes are the main event, the fireworks that light up the night sky. The submissive finds intense pleasure in the act of giving, no strings attached. The dominant woman revels in this financial and emotional surrender.
First, a clarion call: Findom is not for everyone. Just like not every gentleman prefers blondes, not every submissive man—or dominant woman—finds financial power play appealing. And that's perfectly fine. But for those who do, it's not a mere shopping spree financed by a smitten admirer; it's a consensual form of power exchange.
Now, for the uninitiated, findom involves a submissive—often referred to as a "paypig" or "finsub"—gifting money or presents to a dominant woman as an act of submission. And before you clutch your pearls and decry it as exploitative, remember: It's not about draining someone's bank account; it's about the submissive deriving pleasure from relinquishing financial control to a trusted Dominant. Money is power, and in findom, transferring that power is part of the kink.
Real-life example: Consider Lisa and Tom, who met online. Tom sends Lisa tributes via PayPal or gift cards. It's thrilling for both; Lisa delights in her control, while Tom finds a unique emotional satisfaction in every transfer.
However, darlings, here's the rub: Just like any power exchange, findom demands a high level of responsibility and respect from both parties. It's not about mindless expenditure or taking advantage of someone's fetish for personal gain. Any dominant woman worth her Louboutins will ensure that her submissive is financially stable enough to engage in this particular form of submission without causing harm.
FLRs and Financial Control
Let's get this straight: love cannot be bought, auctioned, or bartered for. If you think shelling out cash to a Dominant woman is your golden ticket to her heart, I hate to burst your bubble, but you're in for a rude awakening. While money may garner attention, it won't build a solid foundation for a genuine Female-Led Relationship. See also: Money Management in a FLR: Why women should hold the purse strings
If you're a submissive man eager to please, don't mistake a Dominant woman's acceptance of your financial gifts as acceptance of you. Any woman worth her salt—in dominance or otherwise—will value your loyalty, devotion, and respect far above your ability to pick up the check. Money may speak, but it doesn't converse, share emotional intimacy, or cuddle after a long day.
In FLRs, control of finances is not about the fetishistic thrill but the mutual benefit of a well-managed resource. The woman may manage the budget, make investments, and generally take the lead in financial decisions. Tributes, in this context, can become a potent symbol of devotion, but they should emerge organically.
Real-life example: Meet Emily and Mark. Emily manages the finances in their FLR marriage, from budgeting to investments. Mark enjoys an "allowance" for personal expenses, lovingly administered by Emily. Their dynamic is enhanced, not defined, by occasional financial gifts or tributes that Mark may offer.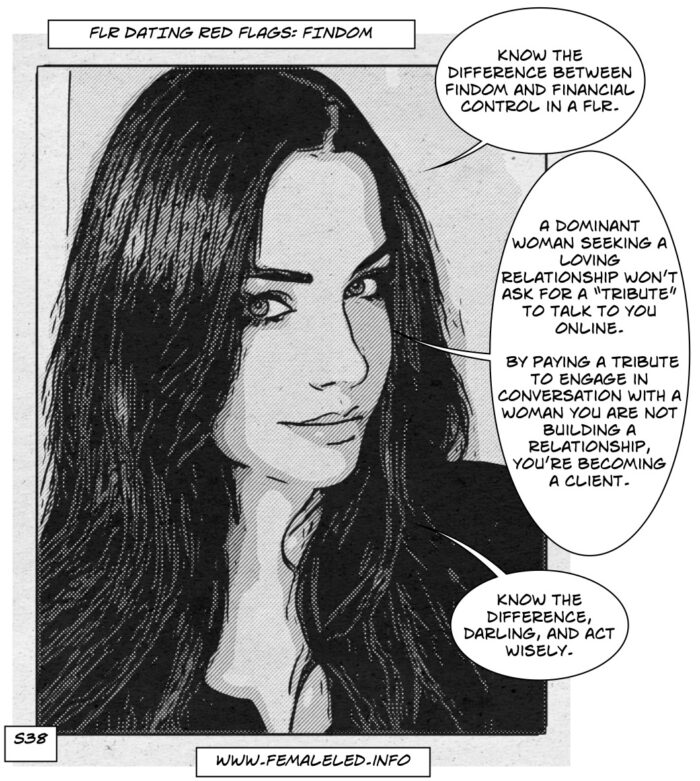 Findom vs FLR Key Differences: Understanding the Nuances
Purpose: Findom is about the thrill of financial submission. FLRs focus on the responsible management of shared resources.
Timing of Tributes: In Findom, tributes are often the focal point. In FLRs, they should be introduced only after establishing a secure, respectful dynamic, consensually.
Emotional Satisfaction: In both dynamics, the act of giving and receiving money can offer unique emotional satisfactions but for different reasons.
The Golden Rule of Thumb for FLRs and 'Tributes'
If you're in search of a loving FLR, remember this: Build the relationship first. Tributes can come later, and only when they align with the dominant's love language and the submissive's genuine desire to offer a token of devotion. Until then, proceed with caution.
In conclusion, whether you're captivated by the high-voltage charge of Findom or the grounding stability of an FLR, understanding when and how to introduce tributes can elevate your experience. Choose your path wisely, and may your reign be as fulfilling as it is financially rewarding. Cheers, darlings!