Sitting on the Throne of Power: The Art of Queening in a Female-Led Relationship
Ladies, take your seats – literally. In the intriguing world of Female-Led Relationships (FLRs), a myriad of techniques can be employed to secure our deserved dominance. Today, let's unwrap the regal practice of 'Queening' or 'Face Sitting' and explore how it can fortify our reign in a FLR.
Firstly, let's demystify what Queening is all about. Originating from the medieval practice where female monarchs would sit on the faces of male consorts to assert their authority, Queening in the modern context is a consensual practice incorporating elements of eroticism and dominance. It involves the Dominant woman positioning herself atop her submissive partner, his face serving as her royal throne.
This act symbolises the literal physical ascendancy of the female in the relationship – she is, after all, on top. It communicates a clear power dynamic, helping establish and affirm the woman's authority.
But Queening isn't merely about physical dominance; it's also an act of emotional superiority. It allows the Dominant woman to receive pleasure in a way that aligns with her desires and convenience, underscoring her control over the intimate aspects of the relationship.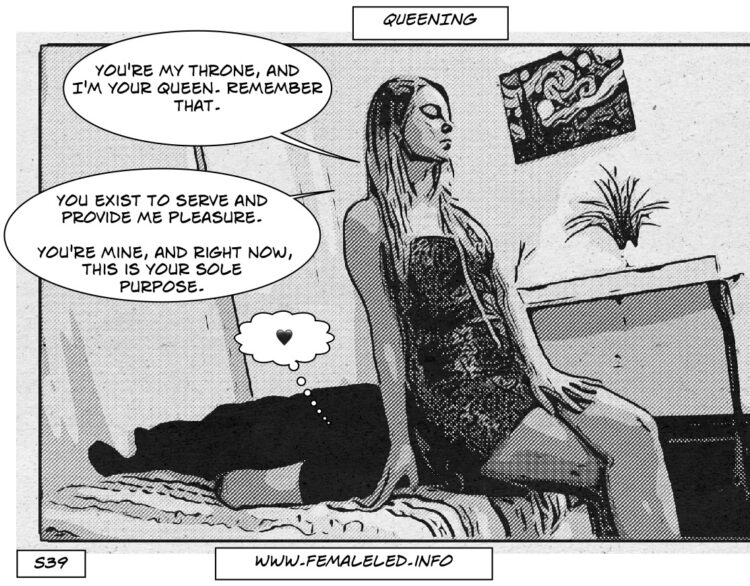 How Queening supports a FLR
Now, how does this regal act support a FLR? Firstly, it amplifies the power dynamic by placing the Dominant woman in a position of absolute control. The submissive man is rendered passive, reaffirming the woman's authority and his subservience.
Moreover, Queening can heighten the bond and communication in the relationship. While it allows the woman to express her desires openly, it also gives the man a chance to pleasure his partner, reinforcing his role as the service provider in the relationship.
And, of course, it's a remarkably potent tool in obedience training. The man's desire for intimacy can be met only at the woman's will, in the way she wishes to receive it, fostering a system of rewards that can subtly reinforce obedient behaviour.
However, like any royal decree, Queening must be implemented with careful consideration. It is vital to ensure the comfort and consent of both parties. Queening is not about enforcing discomfort but rather leveraging pleasure and power dynamics to establish dominance.
To wrap it up, ladies, Queening is more than just an erotic act. It is a proclamation of your reign, a testament to your authority, and an instrument to maintain your regal stature in the relationship. So, step forward and take your throne because in a Female-Led Relationship, every day is coronation day.