Hello, darlings! Today, we're delving into an enticing topic that sends a shiver down every dominant woman's spine – maintaining the sweet symphony of service and obedience in our dear men post-release in the context of chastity within a Female-Led Relationship (FLR).
A man in chastity can be an absolute delight, his desires burning bright and his obedience reaching record highs. But what happens when he gets a release? Does the desire extinguish? Does the obedience wane? Fret not, ladies, for I bring you solutions that will keep your man as docile and obedient as a well-trained pet, even post-release.
Ensuring your husband remains obedient after release from chastity
The Power of Language
In the world of FLRs, words can be a tantalizing tool of dominance. Remind him of his place and your authority with sentences dipped in the honey of dominance. For instance:
"Remember, darling; your release is a reward, a gift from me. It doesn't change our dynamic, does it?"
"I hope your release has left you with more energy to please me, hasn't it, sweetheart?"
Extend the Denial Period
Let him savour the sweetness of his release and then make him wait longer for the next one. The longer the denial period, the more his anticipation and desire to please will mount.
Reward-Based System
Turn his service and obedience into a game where his performance post-release affects his next release. For instance, say:
"The better you serve me, darling, the sooner your next release. You want to keep me happy, don't you?"
"I expect the same level of devotion and service, sweetheart. Your next reward depends on it."
Enhanced Service Tasks
Post-release, amplify his service tasks. Make them more challenging and more demanding. Keep him on his toes, both literally and figuratively.
Remind Him of His Chastity
Regularly remind him of his chastity even during his release period. Make statements like:
"I hope you're not forgetting your place just because you had a release, are you, darling?"
"I loved how obedient you were during your chastity. I expect nothing less now."
Remember, ladies, the key to maintaining your authority and his obedience post-release lies in your dominance, control, and unyielding resolve to keep him entranced in your power. After all, a man's desire to serve his leading lady should be as constant as the north star, irrespective of whether he's locked or given a momentary glimpse of freedom. So, put on your high heels, ladies, and let the world of FLR dance to your tunes.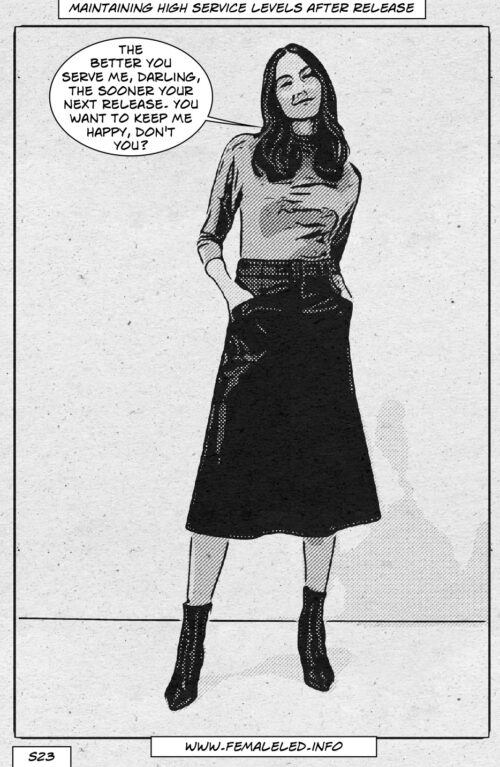 ---
Sub Drop
"Sub drop" is a term commonly used in the BDSM community to describe the feelings of sadness, depression, or even physical symptoms like fatigue and headache that a submissive (the "sub") might experience after an intense BDSM scene. This usually happens when the endorphins and adrenaline that were produced during the scene start to wear off.
Sub drop can occur immediately after a scene or hours to days later. The intensity and duration can vary greatly from person to person.
Aftercare, which is the process of attending to one another after intense BDSM play, is crucial in managing and alleviating the effects of sub drop.
This could involve cuddling, discussing the scene, rehydration, or simply providing a safe and comfortable space for the submissive to recover.
After a release from chastity, the submissive partner might experience a drop in the intensity of his submission or service levels. However, there are ways to ensure that high service levels are maintained:
Aftercare: Immediately after release, ensure that you provide ample emotional support and care, often referred to as aftercare in BDSM terms. This can be as simple as cuddling, verbal reassurances, or other comforting acts.
Reassertion of Roles: After the release, reiterate the expectations and roles within your relationship. This might be done through a conversation or ritual that reinforces your dominance and his submission.
Consistent Rules: Ensure that the rules and expectations for his service remain consistent before and after release. Consistency helps to maintain the structure and order of your FLR, which can be comforting and reassuring.
Positive Reinforcement: Praise him when he performs his tasks and duties well. Positive reinforcement can encourage him to maintain high service levels.
Re-engage quickly: After release, it could be beneficial to re-engage him in his duties and responsibilities quickly. This could mean assigning him tasks or asking for his service shortly after his release.
Open Communication: Talk about how he's feeling after his release. Encourage him to express any feelings or concerns, and be ready to address them. This can help him transition back into his service role more easily.
---