Showing off your man's submission to your friends can be a good way to evangelise about Female Led Relationships and get more women interested in the dynamic.
In a Female-Led Relationship (FLR), where roles are consensual, and respect is paramount, showing off your obedient husband can be a delicate matter as you want to respect his feelings and dignity. Here are a few suggestions:
Give Him Tasks: If you're hosting a gathering with your friends, you might ask your husband to serve drinks or hors d'oeuvres. Say something like, "Darling, would you mind ensuring everyone's glasses are full?" This way, he's contributing to the event, and his attentiveness will be noticed. Have him do obedience tasks, such as, "Sweetie, my feet are so tired. Could you please massage them for me?"
Public Compliments: While interacting with your friends, you can say something like, "I must say, I am incredibly lucky. John is so attentive and always makes sure I have everything I need." This both shows your appreciation and subtly highlights his obedience.
Public Affirmation of Your Decision-Making: You might say, "My husband always consults me before making any big decisions. He knows I have the best judgment. Right, sweetheart?"
Discuss His Achievements: When the conversation turns to relationships or household duties, you might share, "Just last week, my husband took the initiative to plan a surprise weekend getaway. He took care of everything – from bookings to packing. I'm very grateful for his thoughtfulness."
Show Appreciation: At a quiet moment in the conversation, turn to your husband and say something like, "I want to take a moment to thank my amazing husband for all his hard work today. He's been keeping everyone's glasses full, and the hors d'oeuvres he prepared are delicious. I'm very lucky to have him."
The Shoe Shine Show-off: How about a shoe-shining scenario? "Ladies, just look how diligently he polishes. He spends hours getting the shine just right," you could say, showing off his dedication to please you.
Demonstrate Respect: Ensure you're not belittling or humiliating him in all interactions. Even if the relationship is female-led, it's vital to maintain respect. For instance, if he makes a mistake while serving drinks, say something like, "It's alright, darling. We all make mistakes. Could you please clean that up?" This shows your friends that despite the power dynamic, you treat each other with kindness and respect.
Discuss His Obedience: Talk about how obedient he is. You could say, "My husband is so good at following instructions. He always makes sure my orders are executed perfectly."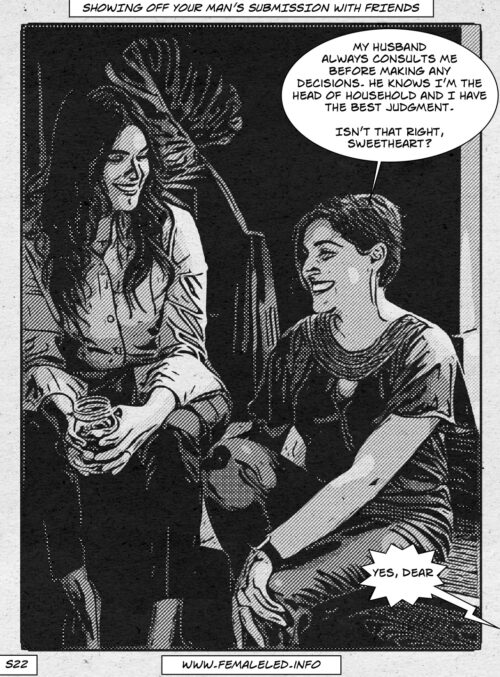 Showing off your man's submission
What matters most is that you both are comfortable and happy with the dynamics of your relationship. It's essential that both parties feel respected and fulfilled. Remember, my queens, the essence of showcasing your man's submission lies in confidence, wit, and a dash of theatrical flair. Displaying dominance can be as entertaining as it is empowering. So go ahead, put on the show of a lifetime – your audience awaits!