Ladies and Gentlemen, curious cats, and ardent admirers, I present to you a guide on the subject that elicits both curiosity and passion – "Maintenance Spanking" in a Female Led Relationship (FLR). The art of Dominance is, of course, a multifaceted one, and there's no denying the delightful sting of a well-placed swat in reinforcing that dynamic. So buckle up, or should I say bend over? Let's dive in.
Maintenance Spanking vs Other Impact Play
For the uninitiated, 'maintenance spanking' might sound like a bit of work around the house, but dear ones, it's more akin to the upkeep of the dynamics in your love nest. Unlike other forms of impact play that are tied to misbehaviour, discipline, or sensual foreplay, maintenance spanking is a scheduled event; a routine, if you will, that serves to reinforce roles, remind of obligations, and let's be honest, it can be rather titillating.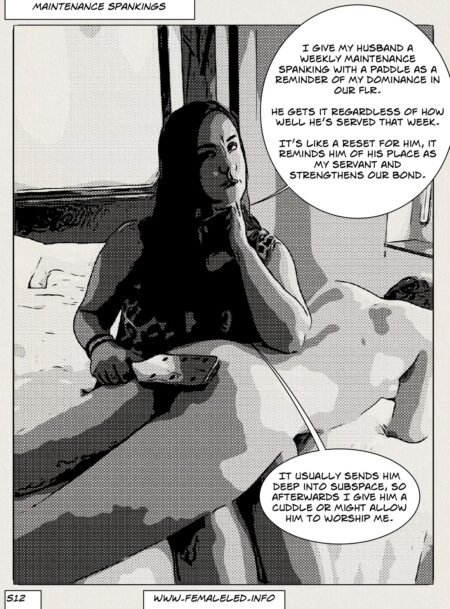 Why use Maintenance Spanking?
Here's the part where we delve into the juicier aspect of this practice. For a Dominant woman, maintenance spanking is an ace up her sleeve. This ritual cements her authority, setting the tone for her unquestionable dominance. It is a palpable reminder of her command and control, a message delivered directly to her partner's backside. Oh, and let's not forget the intoxicating power rush accompanying it.
Ritual Steps
The ritual of a maintenance spanking can vary, but here's a tried-and-true method. First, set the mood. Command your partner to present himself, fully acknowledging the moment's importance. Remember to ensure he is comfortable – a maintenance spanking isn't a punishment. Select your implement of choice (hand, paddle, or flogger – pick your pleasure). Apply the strokes firmly but fairly – the aim here is not to cause undue harm but to cement the dynamic.
Real-Life Examples
Consider this: Lady Vanessa and her beloved, Daniel. Vanessa commands him to present himself for his maintenance spanking. There's no questioning, no excuses, just submission to the ritual. She chooses her favourite paddle and, with firm, even strokes, reminds him of his place. And Daniel? He treasures these moments as a reaffirmation of their unique bond.
From the Femaleled.info community:
Catherine: "In our relationship, maintenance spanking is like Sunday brunch – regular, intimate, and something we both look forward to. It keeps things spicy and allows me to establish dominance in a very tangible way. It's our own dance of power and trust. My advice? Make it a ritual, make it regular, but above all, make it yours. Tailor it to your relationship's needs and let it remind you of your unique dynamic."

Vivienne: "Maintenance spanking in our FLR is not just about asserting dominance; it's also about nurturing submission. I see it as an act of caring, a reminder of our promises to each other. It's my way of saying, 'I'm in control, and you're safe in my hands.' I recommend it because it's a clear, powerful, and intimate way to maintain the order and harmony of our relationship."

Isabella: "Maintenance spanking is an essential part of our routine. It's like a scheduled board meeting in a successful company; it's regular, expected, and sets the tone for our roles. For me, it's a means to underscore my authority. It's direct, tangible, and a clear reminder of our agreed-upon dynamics. I would absolutely recommend it to any woman in an FLR. It's a powerful, straightforward tool for reinforcing your authority."
Frequency
The frequency of a maintenance spanking depends entirely on the dynamics and agreement within your relationship. Some couples prefer a regular schedule, such as weekly or biweekly, while others might opt for monthly. The key is consistency and communication. The goal is to maintain the dynamic, so the frequency should reflect that aim without causing undue strain or discomfort in the relationship. As always, it should be consensual and enjoyable for both parties involved. Discuss this with your partner and find the best rhythm for your relationship.
Men's Feelings and Treatment of the Ritual
Gentlemen, remember, you're not just an observer here. The maintenance spanking is as much about you as your lady. You should approach it with respect and understanding of its purpose. You might feel a mix of anticipation, vulnerability, and even excitement. Allow yourself to be swept up in the ritual and savour the feeling of being under your lady's control. Let the spanking be an affirmation of your devotion, a testament to your place in the relationship, and above all, a tribute to your beloved Dominant.
Aftercare, Emotional Connection and Rewards
Rewards and aftercare can play significant roles in a maintenance spanking ritual. The reward might not necessarily be something tangible. It could be a loving word, an intimate moment, or simply the pleasure derived from the act, from submitting to his Dominant. Aftercare is a vital part of any BDSM or impact play activity, including maintenance spanking. Aftercare involves caring for the submissive partner physically and emotionally after the spanking session. It could involve soothing physical discomfort with lotions or ice packs, offering comfort with cuddles or warm blankets, and, most importantly, providing emotional support through open communication.
In conclusion, maintenance spanking is an art, a dance of dominance and submission, a testament to female leadership's power and glory. So, to the Dominant ladies and their ever-obedient men, here's to keeping the spark, or shall I say, the 'sting' alive in your relationships. Happy spanking!